Alla ricerca di una chat video gratis HTML5?
Alla ricerca di alternative 123flashchat, avchat o camfrog in HTML5 / webrtc
First chat To be Chrome/Firefox/Edge/Safari and Iphone/Android compatible
Provate la nostra video chat gratis HTML5: in 1 click prendi il tuo !.
Abbiamo la video chat più completa per il tuo sito web, fatto in html5 e facile da integrare.
Scegli tra tecnologia Flash e WBERTC per lo streaming. La chat Html5 include ora la chat multipla Webrtc in tempo reale
Webcam video chat completamente personalizzato e gratuito.
Prendi la tua video chat HTML5 per il tuo sito web o il tuo blog.
Moderare e personalizzarlo come vuoi
Facile da integrare, facile da amministrare
Comprende streaming live webcam
Messaggi privati o pubblici
Stile con finestra o finestra
Webcam e chat su invito
Active accounts: 2291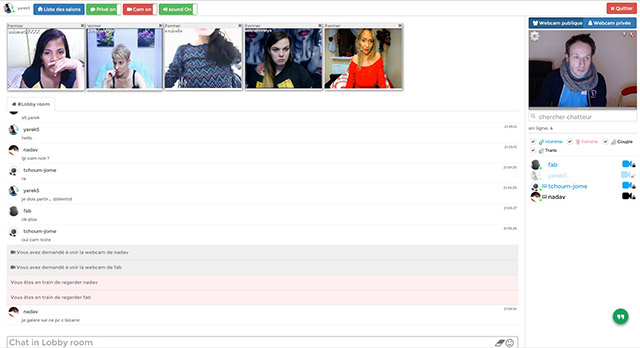 Basata su nodejs/ socket compatibili con tutti i browser
3 modi diversi: modalità a schede, modalità finestra o modalità conferenza
Supporto multi-webcam: guarda e guarda gli utenti online
Intero pannello di amministrazione
Guarda e sento come vuoi!
Si integra a qualsiasi sito web esistente solo con una linea di codice
Funzioni di login automatico da integrare con il database degli utenti esistenti
Caratteristiche di moderazione Include funzionalità di moderazione kickban
Moderna, pura GUI, facile da personalizzare alle tue esigenze
Sono incluse oltre 100 funzionalità
Gestione completa dell'utente
Gestione del genere
Streaming webcam a schermo pieno
E molto altro ancora ...